Preparing Assignments in Canvas
Posted on:

14 September 2018

By:

lmcbride
This article is made up of content taken from an email titled "PowerTeacher Pro - action required in your new gradebook" sent to all facstaff from Craig Hannick on August 9, 2018.
How does Canvas choose which assignments are passed back to PowerSchool?
Canvas passes back any assignment, graded discussion, or quiz that includes a check mark in the Sync to SIS option. This option determines what assignments are sent to PowerSchool. The Sync to SIS option will already be selected for you. You can still manually remove a check mark from any assignment that you do not want to pass back to PowerSchool.
Additionally, Canvas assignments are also subject to the following details:
Due dates are required to send an assignment to PowerSchool.

All assignment names must be unique or they cannot be identified by PowerSchool. If a Canvas assignment has the same name as already exists in PowerSchool, Canvas will not push data for that assignment to PowerSchool.

Canvas assignments assigned to individual students in a course or MasteryPaths via differentiated assignments do not post to PowerSchool. PowerSchool does not support this functionality. 

Assignments must be assigned for a specific section or for Everyone

.

Assignment names cannot be longer than 30 characters.
How do I import assignment groups from PowerSchool?
You must
import
assignment categories
from PowerTeacher Pro
into Canvas as assignment groups
.
You will only need to do this when you create or modify assignment categories in PowerTeacher Pro, which is typically at the beginning of the course.
Assignment group
changes
are
synced from PowerTeacher Pro to Canvas
nightly
.
You may have to wait a day to import assignment categories into Canvas.
Canvas assignments will not be synced to PowerTeacher Pro unless they are located in the default assignment group or in a group imported from PowerTeacher Pro.
Imported groups include an import icon to identify them from manually created assignment groups in Canvas.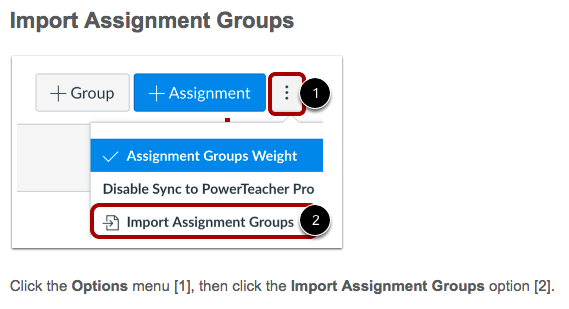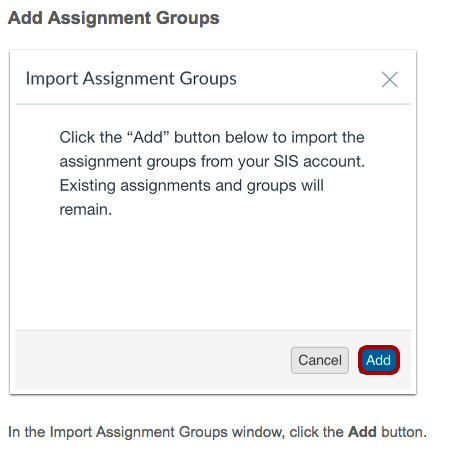 If you already have assignments in groups in your Canvas course, that is not a problem.  You can import the new groups and then move the contents of the existing groups into an imported group (the one with the import icon).  

Choose the Move Contents... link to move all the assignments in that group to another group in the assignments set of groups.