Optimal projector settings
Posted on:

14 August 2012

By:

jdickmann
For the majority of the projectors at SLUH (50+), the best resolution supported is 1024 x 768 @ 60 Hertz. This is true for the following models: Epson 81p, 82c, 822p/+, 83+
For Epson 61p and some non-Epson projectors, the best resolution is 800 x 600 @ 60 Hertz.
For Epson 96W projectors, the best resolution is 1280 x 800 @ 60 Hertz.
If your projector is showing a picture, but not what you expected, be sure to check the Mirroring setting, which is described below.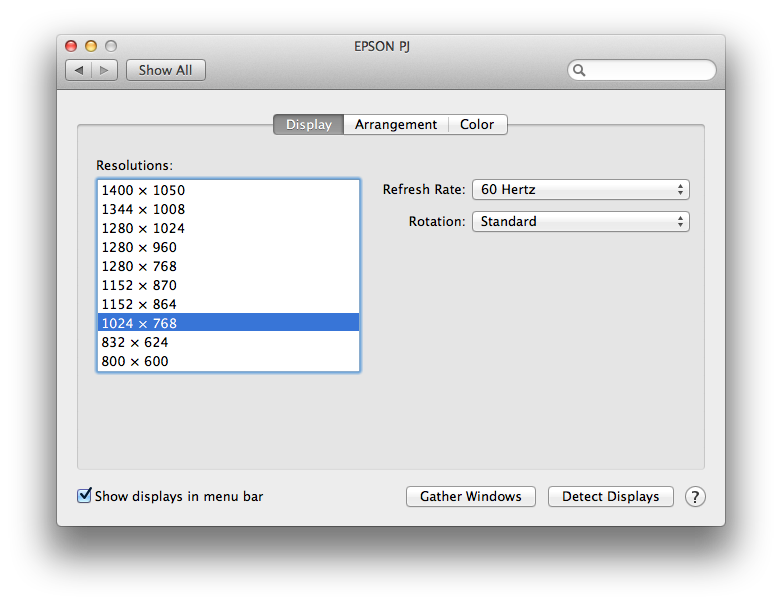 It is usually a good idea to check "Show displays in menu bar" as this gives you easy access to Mirroring and your most recently used resolutions.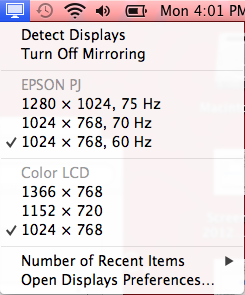 In most cases you will want to have Mirroring turned on. There are (at least) three ways to turn Mirroring on and off.
Select "Turn On Mirroring" or "Turn Off Mirroring" from the display menu in the menu bar
Go to the Display System Preference pane, choose Arrangement, and click the "Mirror Displays" checkbox (shown below)
Type Command-F1 on your keyboard
You may notice that everything on your screen gets really small when you connect to the new projectors in some of the classrooms. This is your computer trying to match its resolution to the higher-resolution projectors. Running at this higher resolution may produce a slightly sharper image on the projector, but will likely be harder on your eyes and could make it harder to operate your laptop ('cause everything is tiny!). Luckily, there's a quick fix: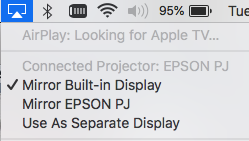 If you click on the AirPlay icon on your menubar (a rectangle icon with a triangle at the bottom) you should be able to choose "Mirror Built-in Display." This will restore your computer's display to its normal size. Your computer should remember this setting.