Using Virtual Backgrounds in Zoom
If you've been inclined to use a virtual background, you may find yourself receiving the following error.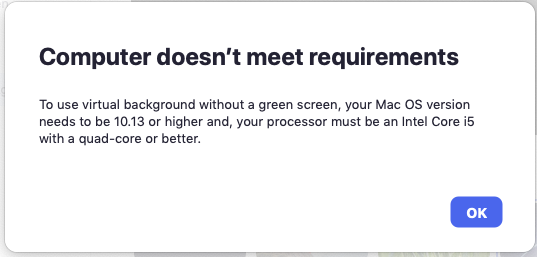 The error you are receiving is true. Our laptops do not meet the requirements to have a virtual background. However, there is a way aorund this.
At the bottomw left of your Zoom meeting window, click on the up arrow icon, within the Stop Video icon. This will bring up a list of options, as seen below. Click on Choose Virtual Background.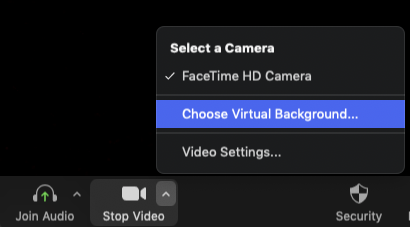 If you get the "Computer doesn't meet requirements" error click OK to clear it.
Next, click on the checkbox next to "I have a green screen.


While most users do not have access to green screens, ways around this is to sit in front of a solid wall or you can hang a sheet or blanket and work in front of that. You must have a solid background, so any patterned sheets or walls would not work out. Also, if the virtual background is not working so well, you'll also have the option to check the box "Manually pick the color of the background if the detected color is not accurate." Then you'll be able to click on your background. (This is all available in the Virtual Background Settings).