Logging in to Canvas
Username and password
To log in to Canvas, you must use your SLUH username and password, the same ones you use to access your SLUH email account.
For students, your username is your student ID (e.g. 2021000). For faculty, it is your first initial and last name (e.g. jbilliken for Junior Billiken). You do not put '@sluh.org' in the username field.
Via a web browser (Chrome, Safari, Firefox, etc.)
To access Canvas, SLUH's LMS, go to either of the following URLs: https://sluh.instructure.com or http://canvas.sluh.org (redirects to the first link)
If you are accessing Canvas through a web browser, the login page will look like this (note the SLUH logo):
Via the iPad app
When using the Canavs by Instructure iPad app, you first have to search for your school. Just enter 'SLUH' in the search box.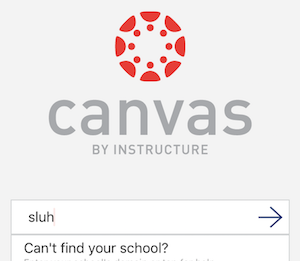 You can tell you are at the right login page if it says "sluh.instructure.com" across the top: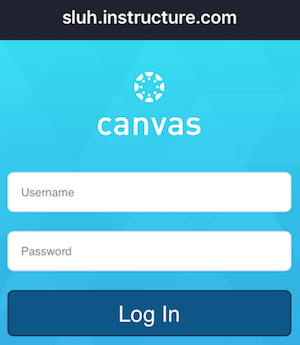 Note: the iPad app login page does not show the SLUH logo.