Combining personal Gmail and SLUH Gmail inboxes
While SLUH Gmail accounts and personal Gmail accounts are normally separate, some people wish to combine all their mail into one inbox so that they only have to log in to one account. You can set up a personal Gmail account to check mail from your SLUH Gmail account and pull it into your personal inbox, and also allow your personal Gmail account to send mail from your SLUH address.
Warnings
With each email you write, you'll have to make sure you're sending from the correct account. Without careful attention, you can expose your personal email address to classmates, teachers, or work colleagues.
Sharing and permissions in Google Apps, especially Google Drive, can get more complicated. For example, when someone at SLUH sends you a request to share a Google Drive folder, clicking on a link in the email won't work because you're signed in to your personal account and not your SLUH account. Similarly, if someone makes a form that's only available to users at sluh.org, you won't be able to access it unless you sign in to your sluh.org account.
Because the personal Gmail account checks the SLUH account at intervals, it can take several minutes for an email sent to your SLUH account to appear in your personal inbox.
As an alternative to combining inboxes, Gmail allows you to sign in to multiple accounts at once using the large drop-down menu in the upper right corner. Once you're signed in to multiple accounts, you can switch between them in the same drop-down.
Configuring your personal Gmail account to pull in SLUH email
If you've read the warnings above, then follow these instructions to combine your Gmail inboxes.
1. In your personal Gmail account, click the gear in the upper right corner of your inbox and choose "Settings".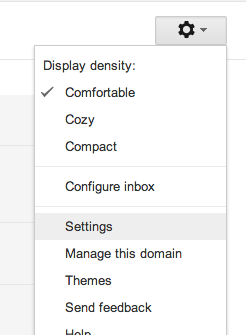 2. In Settings, choose the "Accounts" tab, then click "Add a POP3 mail account you own".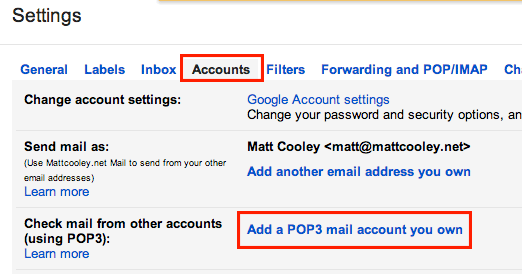 3. In the window that pops up, enter your SLUH email address and click "Next Step".
4. Enter your username (the full email address, including @sluh.org) and your password. The POP server is pop.gmail.com and the port is 995. Check the box to use SSL. Labeling incoming messages to indicate that they came to your SLUH address is highly recommended. Then, click "Add Account".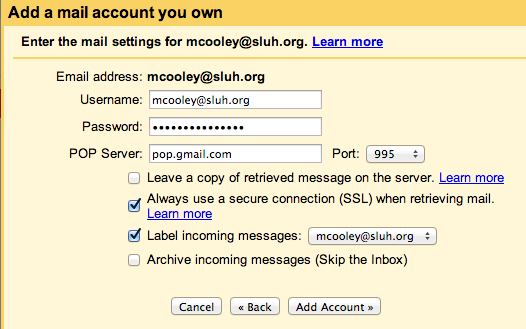 5. Now, your personal Gmail account has successfully been set up to recieve mail from your SLUH account. Now, we need to set up outgoing mail. Ensure "Yes" is selected and click "Next Step".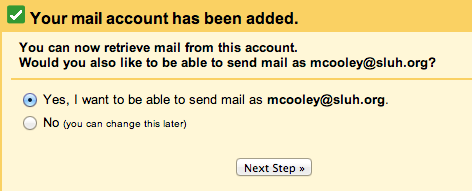 6. Confirm that your name is correct and that "Treat as an alias" is checked, then click "Next Step".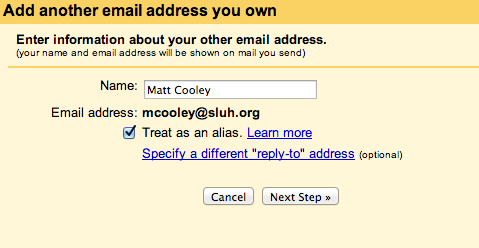 7. Choose "Send through SLUH.org SMTP servers" and enter your username (including @sluh.org), password, the server smtp.gmail.com, and port 587. Make sure the option to use TLS is selected. When you're done, click "Add Account".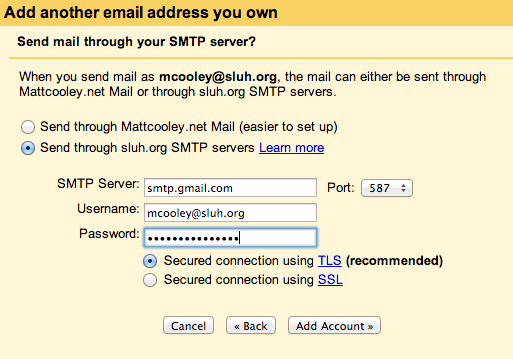 8. Your SLUH Gmail will get an email asking you to confirm ownership of the account. Click the link in that email, or copy and paste the confirmation code into the box and click "Verify".