Creating a Contact Group in Gmail of a Select Group of Students
Posted on:

19 February 2014

By:

lgruss
This support article will help you create a contact group consisting of a select group of individual students as opposed to by class rosters.
1. Click on the Compose button as if you are composing a new email. Within the "To:" line, start adding the names of all of your students. As soon as you start typing a student's name Gmail's autocomplete will fill out the names as you go.
2. When you are done, highlight all of the addresses on the To line (click in that area and type command-a) and copy them to your clipboard (command-c).
3. Now we need to create a new group. Open Contacts, and click on "New Group..." (left hand column), give your group a name and click on the "Add to My Contacts button."

Paste all the addresses you previously copied into the Group. And click Add. When you paste them into a group they will be separated with commas just the way they should be.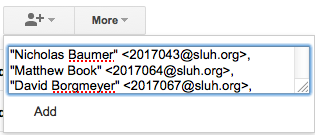 ---
Another way to add contacts to a contact group is to go into Contacts and click on Directory (located on the left column).
Check the boxes next to each student name that you would like to add to your group. Then click on the "Groups" button and select an existing Group that you had created or choose Create New.